Just a quick little post today. Its been too long. I know I know. I'm slackin. I am getting ready to get back on my sewing. I took a little break for a little bit. BUT now my ideas are over flowing out of my head so its time to do something about them!
Until then, my little tip for the day. We get the big back of pancake mix. Then when I make pancakes for the Peach, I make a BIIIIG batch of little ones to freeze. I put them in little ziplock bags. Peach loves those mini pancakes that come in the box in your freezer section at the store. BUT why pay for them, when you can make the same amount for way cheap if you just buy a big bag of mix for the same price?? So that is my tip for the day. When you make pancakes, make a lot at one time, butter them and freeze them in little bags and there ya go! Homemade breakfast with out the time or the mess.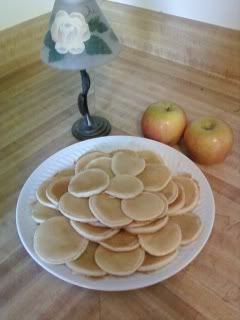 There ya go! Now, my next post won't be so long from now, and hope to have some funky sewing going on. After all school clothes are in need of sewing!! We are only a month away until 3rd grade folks!!!